Welcome to the latest news I have on the Torch Relay. 29 July 2012

As always it works out on the day!

Fantastic support, so many people, great weather - perfect day.

A few photos below from various sources: Tom Philips, Tony Pontifex, Alan Rowe, Terri Shotton, Nick Kinsey, Andy Peel, John Hoyle. So far I've been given 470 photos!

http://www.bbc.co.uk/news/uk-england-london-18958786 40 seconds in Terri with the 1948 Torch & me!!!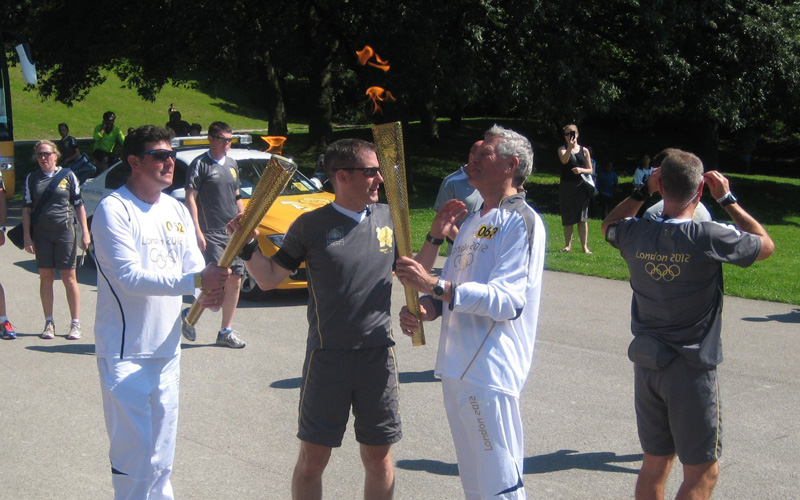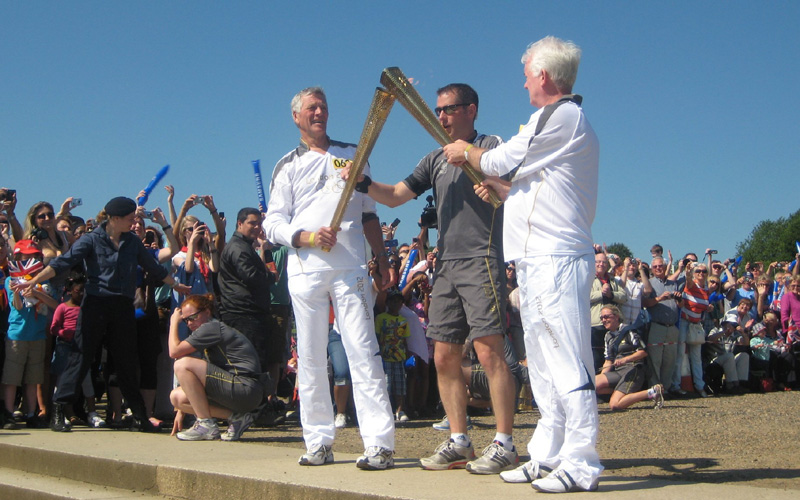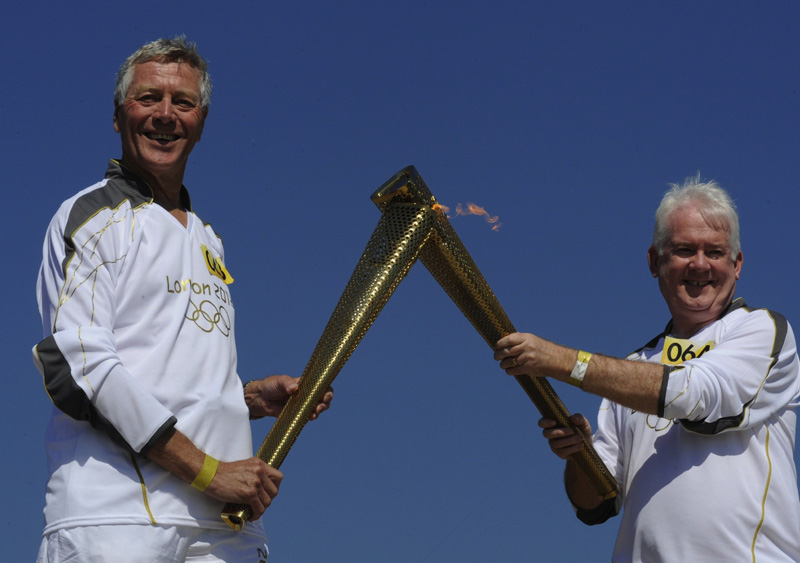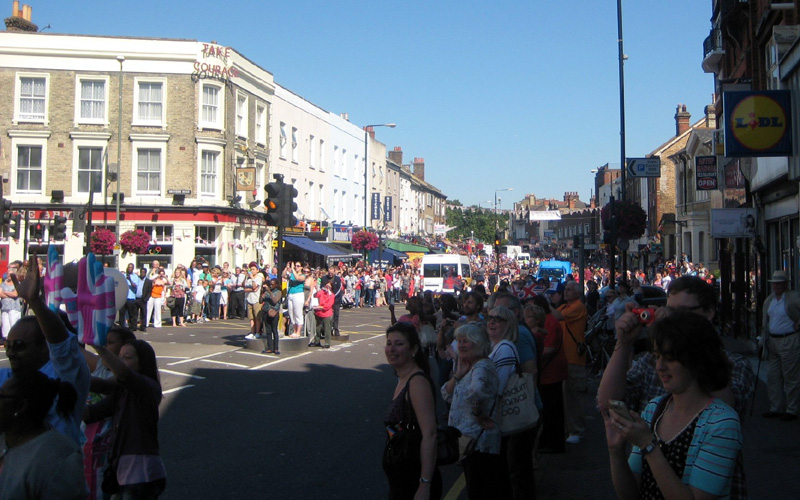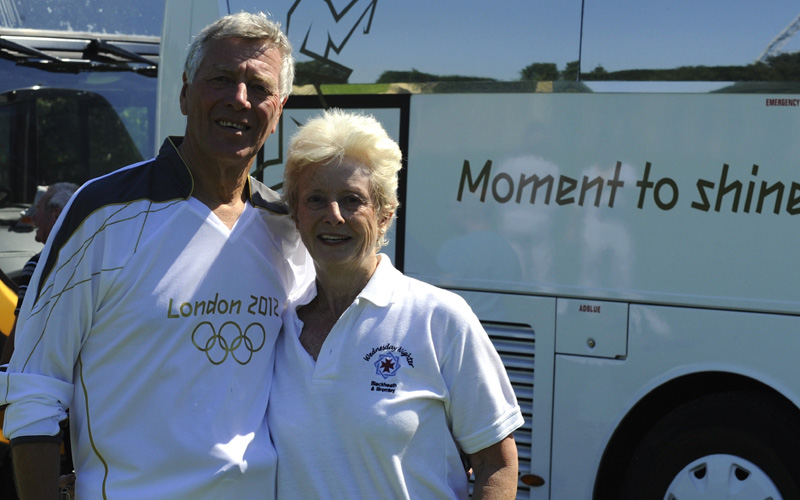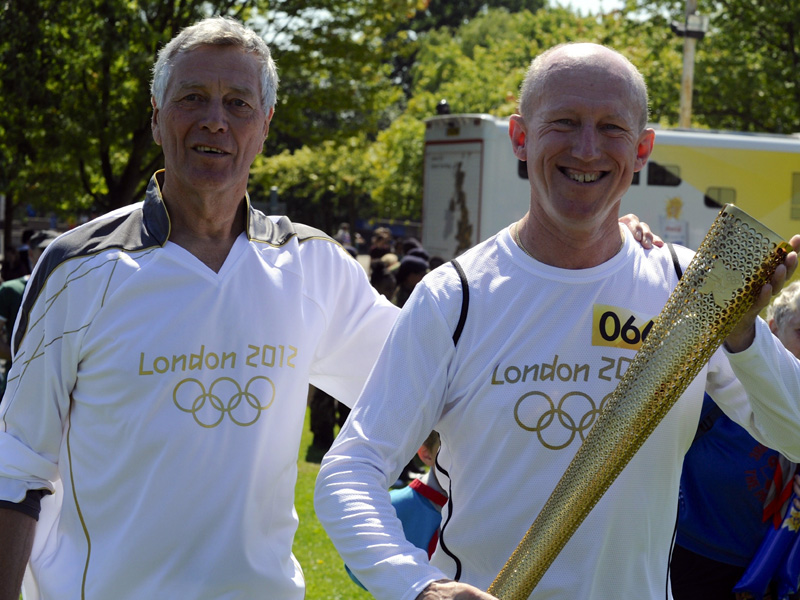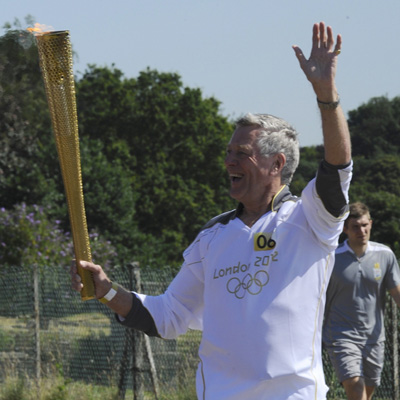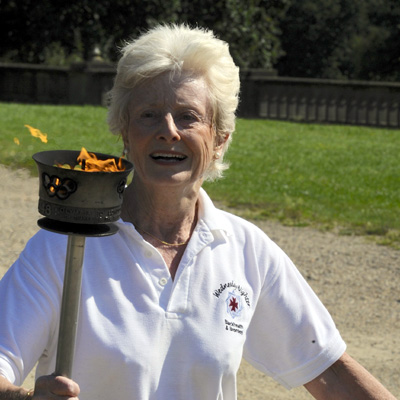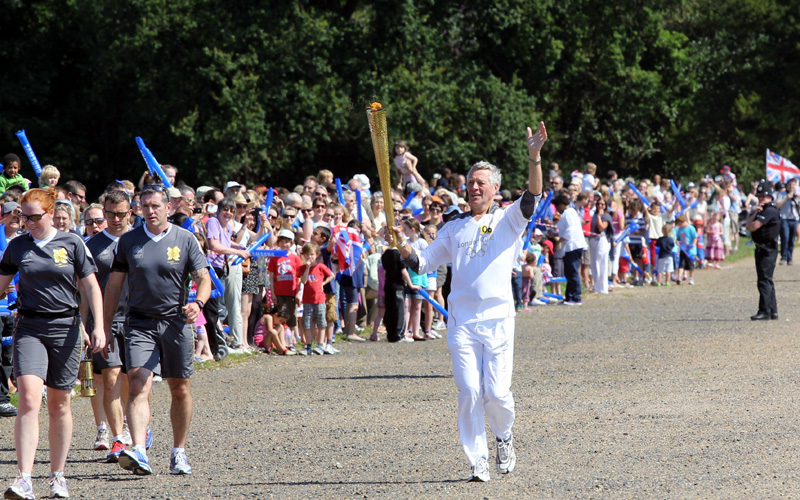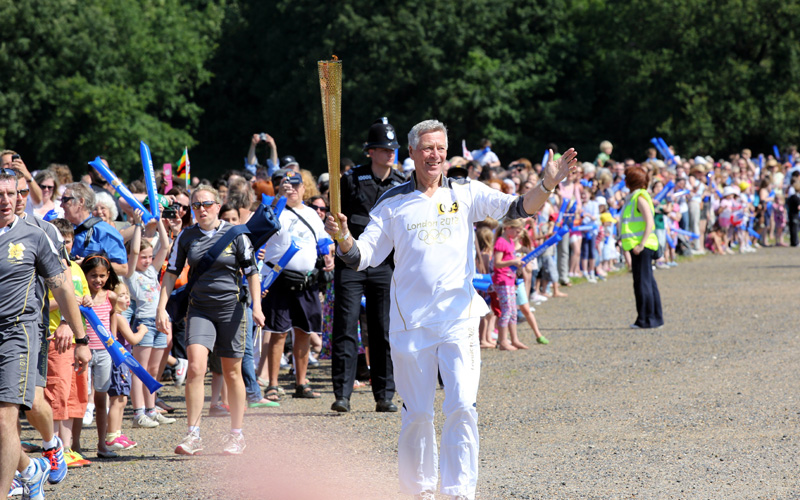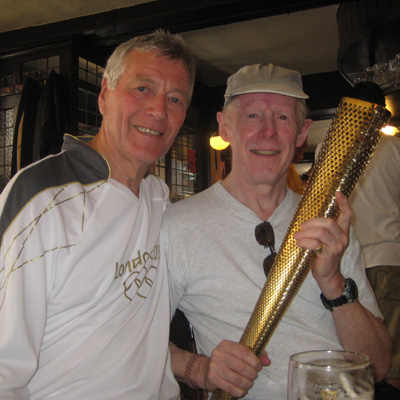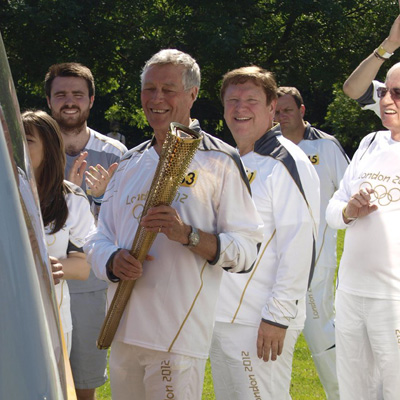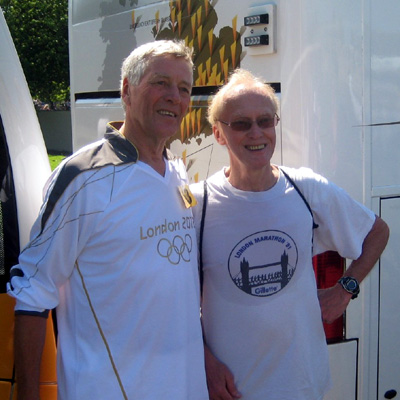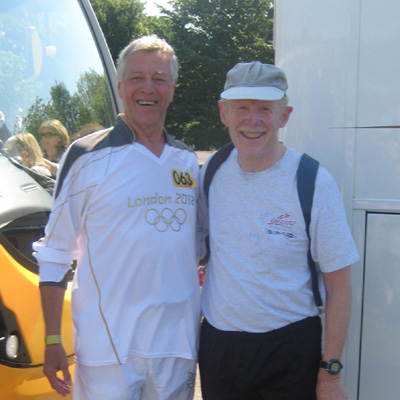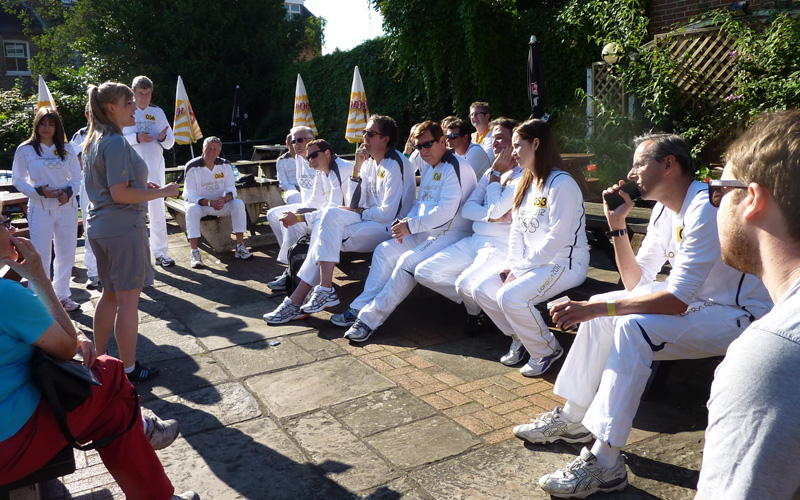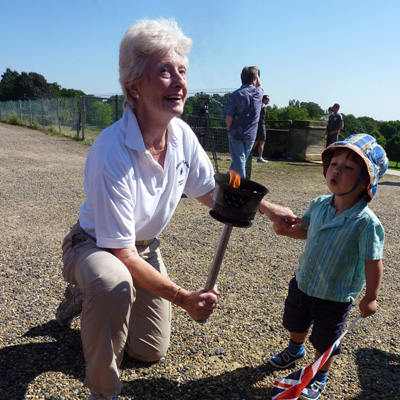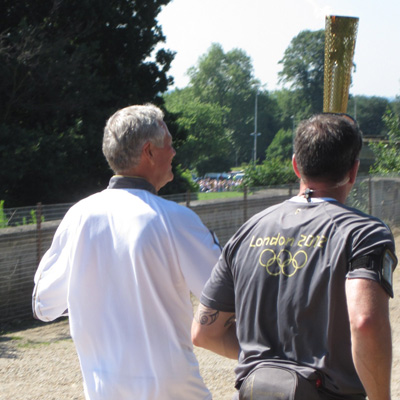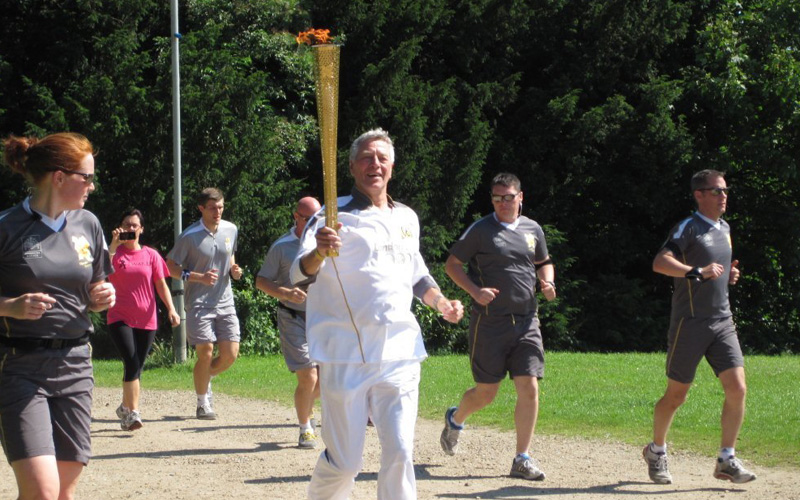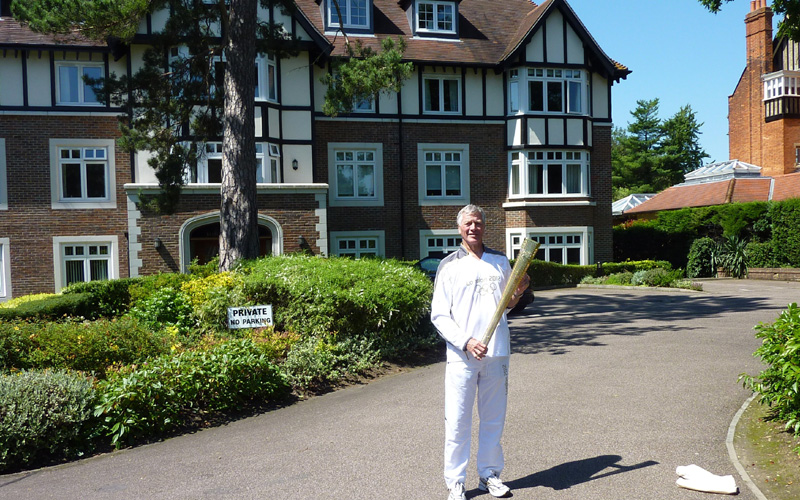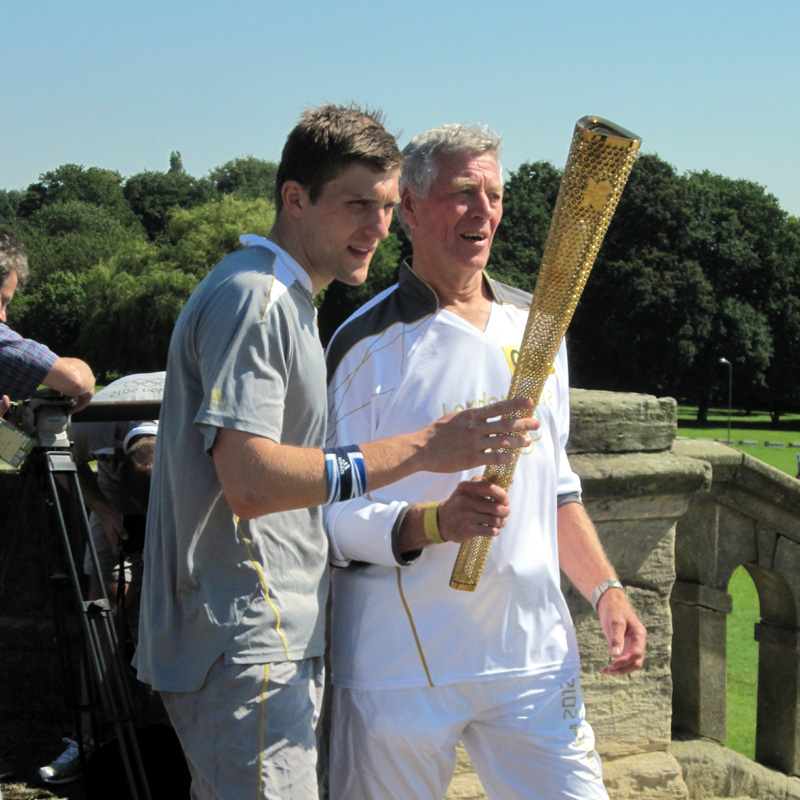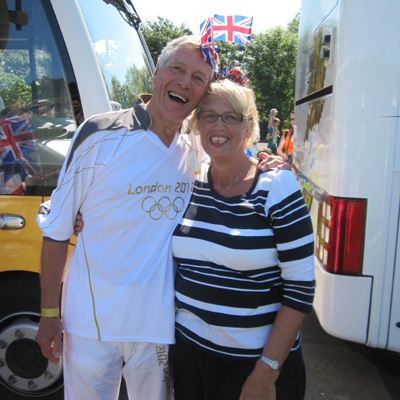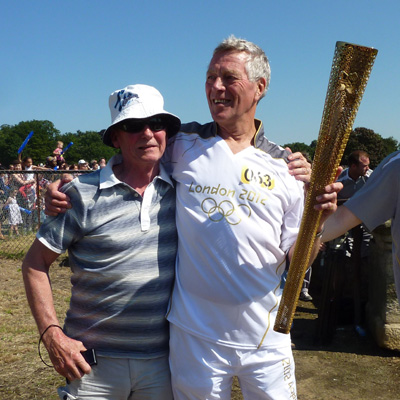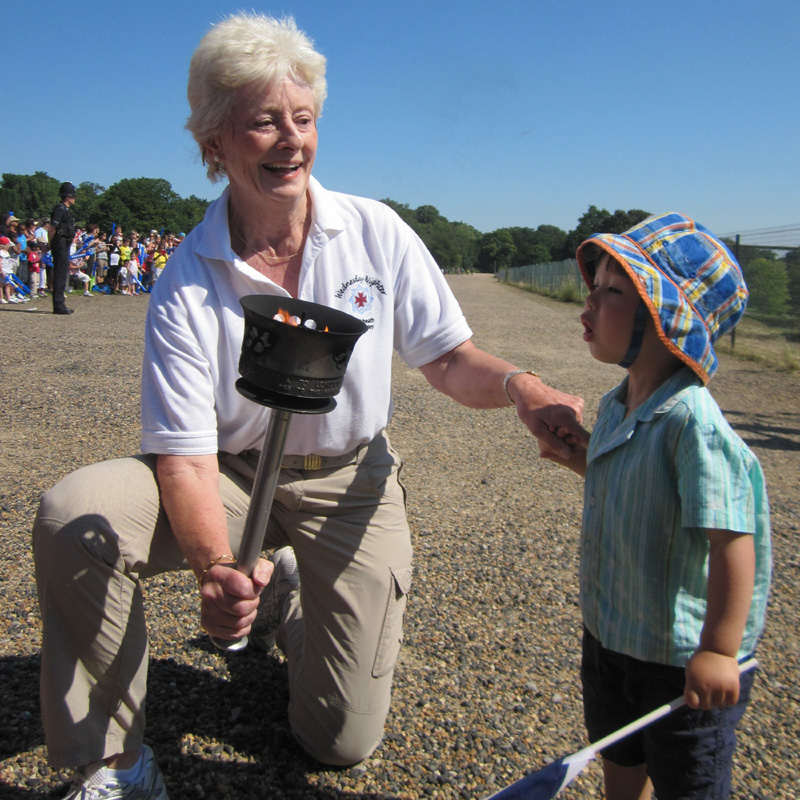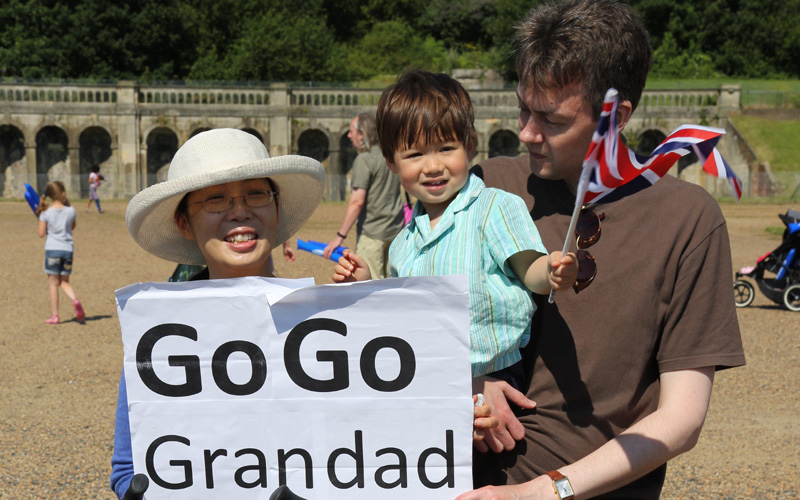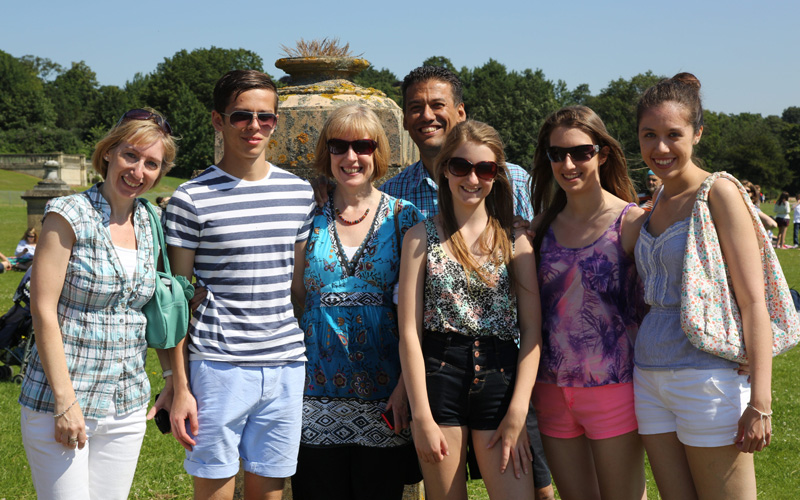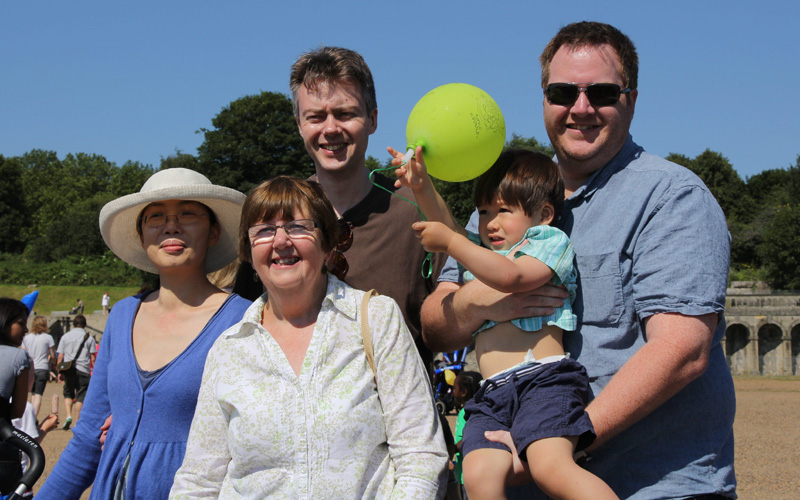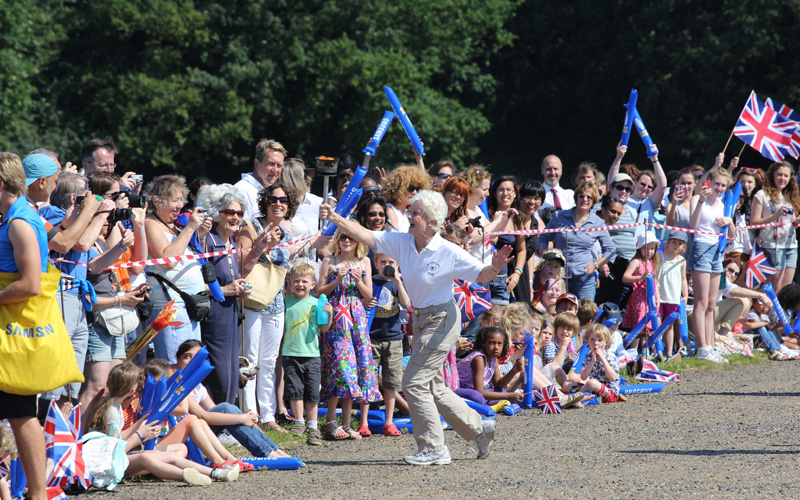 ---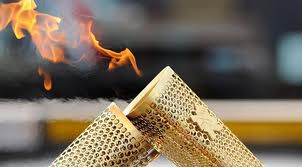 18 July
Cock-ups get worse and worse... sounds like they have run out of large & extra large suits! So they are not sending them out... pick up on the day.
Mark has found a map of my leg (leg 63):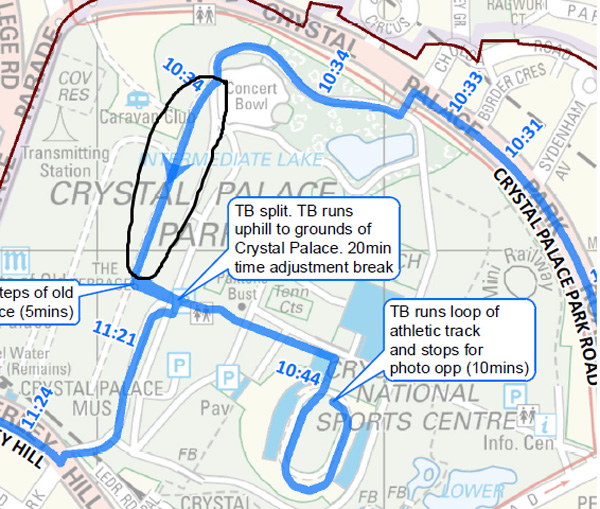 Here is the link to the whole day - it's a big PDF http://www.london.nhs.uk/webfiles/public%20health/olympicsmaterials/0190_Torch_Relay_RevI_DDP_Strip_N_A3_Day_66.pdf
---
17 July
At last some news... no I haven't received my parcel with the 'boiler suit' or any printed instructions. However, in my absence over in deepest France following Le Tour, Terri has been on the phone and this is the result:
Hello Mike,

Thank you for contacting London 2012 about your Leg of The Relay.

You should be receiving the Uniforms shortly as there has been a slight delay.

You need to be at Ye George Inn, 111 High Street Beckenham, London BR3 1AG at 07:45am for your meeting and briefing prior to your run.

Your Leg 63, starts in Bromley (London Borough), and you will travel along Hard surface park track from Hard surface park track and finish on Gravel track on site of old Crystal Palace at Steps of old Crystal Palace. This journey will start at about 10:39am and cover a distance of 400 yards.

We recommend that you contact the London 2012 Shop on 0845 605 2012 for the products you have ordered.

Kind regards,
Wissam

So it looks like I'm finishing at the top of the 'Old Steps' - should be a great place to finish and easy parking if you decide to come.
If/when I have more news I will post it here, so please check back.
---
Thank you for checking up - so far there is no more news other than that I am one of 29 Torch Bearers doing the Bromley stint on day 66 - which is Monday 23 July.
The day starts in Lewisham at 7:31 and is due to end at Tooting Bec Lido at 18:47. I have no idea which leg I'm on or even when I will know.
The Time table for Bromley is:
08:57 Bromley Hill A21
08:58 London Road A21
09:06 London Road A222
09:08 High Street A222
09:10 High Street pedestrianised area
09:11 Market square
09:12 Pedestrianised High Street
09:14 High Street
09:17 Westmoreland Road B228
09:31 Hayes Lane B251
09:46 Wickham Road B230
09:55 Manor Road A222
09:58 High Street A222
10:04 Beckenham Road A234
10:15 High Street A234
10:27 Crystal Palace Park Road A234
10:34 Crystal Palace Park
10:34 Hard surface park track
10:40 Gravel track on site of old Crystal Palace
10:43 Steps of old Crystal Palace
10:43 National Stadium car park
11:21 Steps of old Crystal Palace
11:21 Tarmac road
11:24 Anerley Hill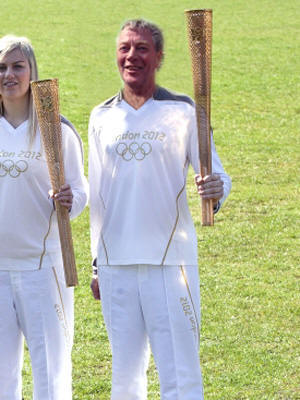 So it goes past Terri's flat at at 9:47 which means that, due to sod's law I wont be there!!!
You can see all the people taking part in Bromley here...
You can watch the BBC's excellent daily live broadcast here...
I can get no sense from the LOCOG/Torch people or from Bromley Council, other than that I should hear about 4 weeks before the due date. The uniform is due at the same time, although I understand from various Facebook messages that they arrive latter than that, are often the wrong size and are not exchangeable.
Terri has purchased the torch for my Christmas present – they have already taken the money, not acknowledged the purchase, or sent a receipt!
I ordered the official stand and special polo shirt – they again took the money instantly, did issue a receipt this time but there was no indication of when they will be delivered.
A mock-up of what I might look like...
Being frustrated I thought I would ask Bromley Council for advice....
16 May 2012

Dear Councillor Lynch

I am a Bromley resident, come under your ward and I have been selected to carry the Olympic Torch on Monday 23 July.

I wonder if you could help or advise me.

I am having great difficulty trying to establish the time table and section of the route that I will be involved with. It actually goes past our front door but knowing how things work that wont be my patch!

I have sent emails to the council without any response, likewise LOCOG are next to useless.

I can find nothing about the relay on the Council's website, are they not interested in this great event? LOCOG stated in previous correspondence that there will be a special celebration function at the end of each day, do you know anything about Bromley's contribution? Has the Council discussed helping their Torch bearers defray the cost of purchasing the torches like some other councils?

Will you point me in the right direction?

Your help will be appreciated.

Mike Peel
It took over two weeks to get this reply:
31 May 2012

Dear Mr Peel.

Many apologies for the delay in responding to you.

I have responded to points you have raised below:

The responsibility for the Torch Relay Convoy is solely the responsibility of LOCOG. They are responsible for organising the Torch bearers in the Convoy. The Council has no role in organising this. The Councils role is to see the safe passage of the Torch Convoy through the Borough.

LOCOG is also responsible for ultimately determining the route, and the timings (although this has been done in conjunction with the Council) and for promoting and providing details of the route. Council Officers are meeting today to determine what information around the Olympics and the Torch relay will be made available on the Councils website.

The special celebration function at the end of each day, refers to where the Torch Relay finishes at the end of each day. For Day 66, the day the Torch passes through Bromley, it finishes in Wandsworth, and they are organising the evening celebration.

The Council has discussed helping their Torch bearers defray the cost of purchasing the torches, but has decided that it will not be providing any financial assistance to torch bearers.

I hope this addresses the points you have raised and I am sorry for the time taken to respond to you.

Kind regards

John Gledhill

Head of Cultural Business Development

---
Several people have asked 'how did you get selected?' Well it all started some time ago when LOCOG asked for nominees - anyone could nominate anyone else. I was lucky to be suggested by several people and, according to the rules, one of them was randomly selected as my nominee. And that turned out to be my old friend John Hoyle, yes, him of NG fame.

Mike's nomination story
In his 70th year Mike ran and completed his 31st London Marathon, the first race being back in 1981.

He is one of only 18 elite members of the "EVER PRESENT" Group that have completed every London race. They are all somewhat older now so it would be a very fitting gesture to have Mike, and maybe other members of his group (if nominated) running the London streets carrying the Olympic Torch, which for him, would be one of his proudest moments. Mike has been inspirational at promoting athletics at all levels through his club, Blackheath & Bromley Harriers AC, for whom he was their president in 2001/2. Blackheath Harriers is one of the oldest and strongest athletic clubs in the UK.
---
I have written the following to add a bit of flesh to the story, just in case the Press take an interest...
Mike Peel, of Beckenham Kent, has been selected as one of the Olympic Torch Bearers. His stint will be on day 66, Monday 23 July, just days before the Olympics start.

Mike, who was 70 years old on 11 January, has been running and cycling since a schoolboy. He is a Past President of the De Laune Cycling Club, which he joined in 1957, and a Past President of his athletics club, Blackheath & Bromley Harriers AC. He has been keenly involved with the organisation and running of many activities in both clubs.

He has been an active member of B&B since 1973 and has competed at all distances from 100m to the London to Brighton (54 miles). He has run about 60 marathons and is a member of the Ever Presents, a select group of 16 that have run every London Marathon (first run in 1981) and has a best time of 2hours 40mins. He did of course run the the 32nd London Marathon on 22 April, and yes, he hopes to be there next year too.

Born and educated in Beckenham, Mike has two children and a grandson of 27 months. He started work as a draughtsman before joining the computer industry in 1963/4 – at that time there were only four computers in London! He is still involved with computer work and is currently webmaster of more than 20 websites.

Amongst his many jobs at Blackheath & Bromley he has been running their website (since it's inception) for over 12 years. During this time it has had over 920,000 visitors and over 3 million page views, not bad for an athletics club site…

Mike has also been Track handicapper, Cross-Country handicapper, organised the Ted Pepper Memorial race for it's first 7 years, computerised and ran the club's membership list from 1974, been heavily involved with the social side including producing the Menu's and table plans for the last 13 years, producing the summer and winter fixture cards for the last 9 seasons – at no cost to the club and lots of other things that he says would just bore you.

Still gets out on his bike, but not as often as he would like, still runs, or rather jogs these days, and continues his extensive travels with his partner Terri.
Mike Peel
0797 0101 871
mike@mikepeel.co.uk